If you've decided to install a pool in your backyard, you're undoubtedly already aware of the positive impact this will have on your life. But, of course, every homeowner's dream is to have their backyard resort just a few steps away from home.
Summers will never be the same because you can cool down in the comfort of your own space and have fun with family and friends while doing it. So whether you want a more comfortable summer or quality time with your loved ones, a pool is always an excellent investment.
But, first things first. The first step is ensuring you have a tailored design for a swimming pool that fully meets your needs, preferences, and style. But no worries – we have you covered!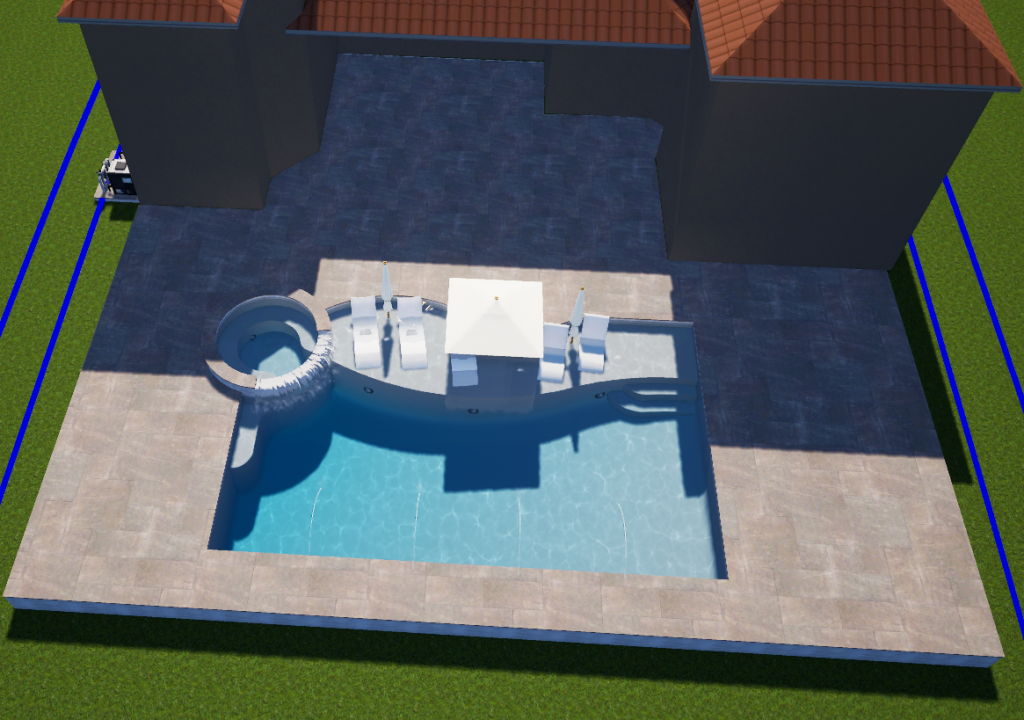 What Is Pool Design?
If you're planning to install a pool for the first time, you might not have been aware that the process requires a suitable design. Swimming pool design involves drawing and designing all the different parts and accessories of your pool before it's installed. A reputable pool design company often provides this service.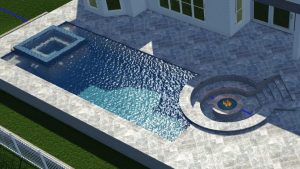 That way, you can easily visualize how your pool will look and whether your ideas are feasible. Working with a professional pool designer is especially handy if you want a custom swimming pool that reflects your unique taste and style. The good news is that professionals specialize in a wide range of categories. So they can help put your idea to life whether you want a lavish backyard resort-style pool or a more straightforward but fully functional structure.
Is Designing Your Pool Necessary?
Pool design is a crucial component of your pool installation project. Before you can install the pool, many questions need to be answered. For instance, you'll need to know what shape the pool will be and which materials will be used to build it. In addition, it's essential to realize that not all swimming pools are constructed similarly.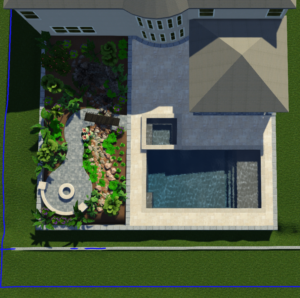 There are different styles of swimming pools, such as above-ground or in-ground pools. In any case, having all the details you need in place is crucial. Remember, a swimming pool construction project is only a worthy investment if you put the right amount of planning and thought into it. Therefore, don't rush through the design process. Instead, work with your pool designer to choose the right design for your property.
What Factors Influence Pool Design?
How do you come up with the perfect pool design? Typically, your swimming pool designer will focus on designing a pool that meets the criteria of function, safety, practicality, and pleasing aesthetics. Here's a more detailed look at the factors influencing pool design.
Safety
Safety, in particular, is an important consideration to make during the pool design process. It's crucial to design a pool with structural integrity and all necessary safety features, such as safe entry and exit points. When you invest money into a pool, you want a structure built to last. However, you also want a design that doesn't create dangerous situations or increase the risk of injuries.
Shape
The shape is another factor considered during the swimming pool design process. The most common pool shapes include squares, rectangles, circles, ovals, and kidneys. You can also choose a geometric shape if the design is feasible and practical.
Materials
Swimming pools can be constructed using vinyl, fiberglass, and gunite. Your designer will help you weigh the pros and cons of each option to determine what's right for you.
Space
The amount of space available will influence your pool design. The area should be large enough to accommodate the pool size or shape. In addition, the pool design idea you choose needs to blend well into your backyard and meet local and state safety regulations.
Use
Consider who will use the pool and how often. If you anticipate that your family and friends will spend more time in the pool, the pool needs to have the function you have in mind. For example, people commonly use pools to have quality time with family, to relax and relieve stress, and for exercise and training purposes.
Aesthetics
As mentioned, your pool must blend well and integrate with its surroundings. Therefore, it's crucial to get the aesthetics right. To achieve this, consider different elements of your pool, such as the style and color; these should complement the existing styles and colors associated with your home.
Placement
It's essential to find the ideal spot for your pool. The perfect placement will ensure you have a pool that enhances the look of your property. Strategically placing your pool will complement the background and look more attractive while helping reduce construction costs.
Top Tips for Pool Design
As you can see, the pool design process has many moving parts. Fortunately, knowing the process can provide you with the insights you need for the best results. To help you out, here are some top tips to know about pool design from the experts.
Determine what you need from your pool: relaxation or entertainment.

Familiarize yourself with building restrictions and regulations for your pool construction project.

Create a budget to help streamline your selection process.

Don't be afraid to voice your concerns or preferences during the design process. After all, the pool is being built for you.

Make sure your design is consistent with achieving a more cohesive look.

Try to balance the hard and soft surfaces to maximize visual appeal.

Explore all the options available so you can create a personalized design as much as possible.
Where Can You Find Pool Design Services?
Searching for the best pool designers near me is part of getting through the pool design process. Finding the right professionals will ensure that this process happens as smoothly as possible. Doing your due diligence also helps you avoid ending up with a poor pool design that's missing important amenities or doesn't reflect the vision you had in mind.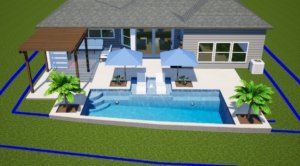 Thankfully, you can avoid this because you have come to the right place. As a reputable pool company, pool design is also one of our specialties. You can quickly see this for yourself by browsing our extensive portfolio of projects.
The incredible thing about working with us right from the start is that you can be sure we are always on the same page with you, even as your pool construction project kickstarts. We are here to help you create the perfect pool design that's uniquely yours and designed to enhance your property and your quality of life.
Need the Perfect Pool Design? Get In Touch With Us Today!
Coming up with the perfect pool design takes some work! The good news is that the process will be more productive with a better outcome if you let us do all the heavy lifting. Our professional team of pool design consultants is on standby to help you solidify your pool design ideas and get your pool installation project rolling. Contact us today!
"Everything went well, their crew is amazing and did an excellent job. It is absolutely beautiful and we couldn't be happier."
Jim S.
Certified Pool Contractors
CPC -1459690