4 Outdoor Renovations that Add Value to Your Home
Hardscape and landscape design projects can add significant resale value to a home, as well as create an enjoyable outdoor living environment for current homeowners. In fact, outdoor projects beat most indoor projects in adding value to your home.
But where to start? Tackling home improvements can be intimidating. There are many outdoor features that can add to your family's enjoyment of a home, but not all of them add value for future owners. Projects that require constant maintenance might send some buyers running for the hills. However, an investment in curb appeal almost always pays off.
According to a 2018 remodeling impact report by the National Association of Realtors (NAR) and the National Association of Landscape Professionals (NALP), investing in landscape and hardscape design is a win-win, whether you plan to sell now or stay in the home.
Investing in landscape and hardscape design is a win-win.
It's hard to put an exact price tag on exterior remodeling, but here are projects the professionals agree add the most value to your home:
#1 Keep up with Landscaping Basics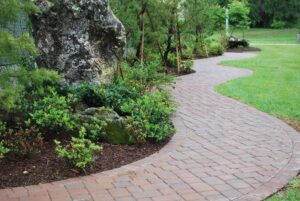 Landscape design is an essential element of any hardscape project and provides a softness that eases visual transition from structure to nature. Basic landscaping is the first element in improving your home's curb appeal. Hardscape projects like adding a meandering flagstone walkway to your front door or creating landscape structure with retaining walls and built-in planters will go a long way in elevating the appearance of your home.
Following simple rules of landscape design can add up to 20% more value to your home. Hiring a professional to create and execute a well-planned landscape design is a key component in maximizing the value of your home.
#2 Install Outdoor Lighting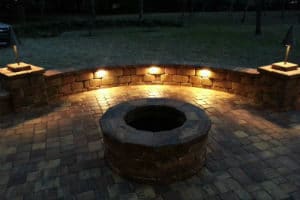 Lighting is one of the best ways to accent your property. Strategically placed outdoor lighting creates ambiance and can truly transform the exterior of your home. Landscape lighting expands your living area by allowing outdoor areas to be used for dining, entertaining, or relaxing at night.
The added styling gives your property extra character. Deck lights, accent lights, and path lights give you the option to showcase specific elements of your home or hardscape. Landscape lighting provides safe passage for friends and family around your property and deters intruders, giving you a greater sense of safety and security.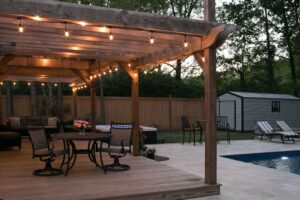 A great patio is an essential aspect of any outdoor entertaining space. Decks and patios bring the highest return on investment (ROI) of any exterior home project. Year-round warm weather makes patios and decks an especially valuable investment in Gainesville, FL. In this climate, hardscaped patios become an extension of your living space, virtually adding more square footage to your home.
Keep in mind, the additions that add the most value are the ones that look like they've been there all along. Meaning, just because an extravagant deck or patio cost a lot, doesn't mean you will recoup those costs when selling. An exterior design professional can help you make sure an upgrade project is appropriate to the size, value, and neighborhood of your home.
While investing in curb appeal is a great way to immediately increase the value of your home, not every project must be 100% dedicated to hiking resale value to deliver big returns. A small project you use and enjoy every day can also raise your home's value in a fantastic two-for-one deal.
Outdoor kitchens are currently very popular, but can be quite an investment. A less expensive way to capture a similar feeling are fire pits. Everyone enjoys congregating around an open fire.
A small project you use and enjoy every day can also raise your home's value in a fantastic two-for-one deal.
Fire pits create a bright centerpiece in your outdoor space that future buyers will love. The NALP estimates you can recoup up to 78% of the cost of installation when selling your home—not to mention all the cozy evenings your family will enjoy along the way!
Work with the Professionals
NALP vice president of public affairs, Missy Henriksen says, "Homeowners working with a landscape professional to embark on renovations can rest assured that they are making a smart, worthwhile investment."

And we agree! Tackling a hardscape project can be daunting. Trust the professionals at FloridaScapes to guide you through the process and deliver stunning results—on time and on budget.